JM Outdoor Living is the best option for custom outdoor water features builder and installer in the Woodlands Texas. We have installed many formal statuary fountains, disappearing urns and custom carved stone fountains.
Even expert fountain contractors get a few surprises every day with ethereal fountain designs around the globe. There's no limit to what you can do with fountains, from the minimalist to the ornate. At JM Outdoor Living, we install fountains from statue to drip drop fountains; and from single-shooting to multiple-shooting fountains.
Adding LED lights in any outdoor fountain design also gives your landscape an inviting, romantic mood.
We can create in any Style of fountain that offer the garden a focal point that only water flowing can bring. The flowing of water over rock and boulders is a timeless elegance. Garden pots can offer a unique and distinguished look. With water flowing out of the pot, or urn and disappearing into the decorative pebbles, these garden fountains have a beautiful and lasting impression.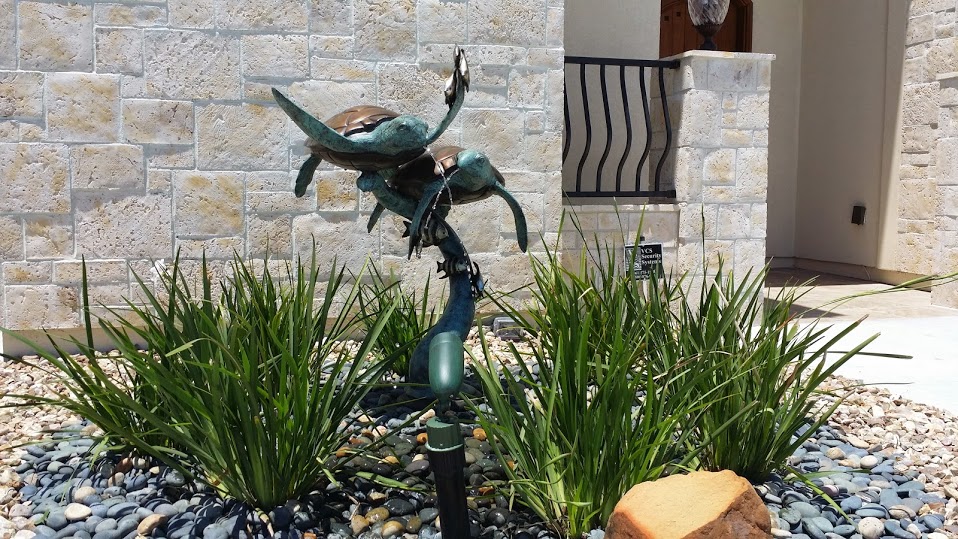 Adding a water feature to your pool or outdoor living environment is not only aesthetically satisfying but produces serenity to your environment.
Water features can be designed to suit your needs and price range. Consider a fountain or waterfall when designing your outdoor living environment
A top-quality custom fountain from the experts at JM Outdoor Living is the perfect accent to any front or backyard design. Fountains are also an ideal addition to any pool, pond, or other water feature. Regardless of your vision for your custom fountain installation, and no matter what the size and scope of your project, we are your premier choice for passion, quality, and excellence in the The Woodlands Texas.
At JM Outdoor Living, we offer a full suite of in-house design-build services. For a free estimate, fill out our simple contact form or give us a call at 832.586.6224. We are ready to answer all of your questions and tell you how JM Outdoor Living can make your landscape design dreams come true!
You and your family will love the change!