Outdoor kitchens and barbecues not only make entertaining guests and family easy and fun, but they also add value and beauty to your backyard in The Woodlands and Conroe Texas. It's a great way to bring the family together and spend less time in front of the TV and more time outside instead.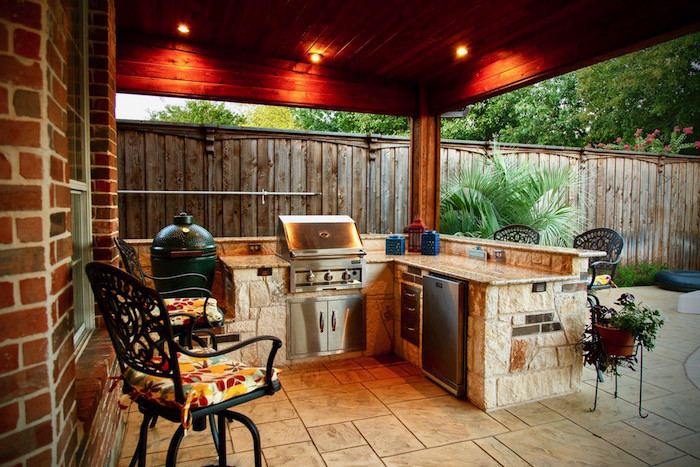 The most important part of your barbecue is the grill itself, and choosing the right one depends on how you'll be using it. There are 3 basic types of grills:
Charcoal Grills use charcoal or wood, or a combination of the two. Cooking with charcoal produces a more flavorful and smoked taste to your food, but requires more cooking time. It usually takes 15-30 minutes for the grill to be ready to cook on. Charcoal ashes will need to be emptied regularly as well. Charcoal is generally more expensive per use than gas.
Gas Grills run on propane gas, which will burn cleaner and be less expensive to use than charcoal. They ignite with the push of a button and pre-cooking takes less time. Gas grills run on a propane tank, which will last for about 25-30 uses before needing to be refilled. If your home has natural gas available, you may be able to install a direct line to your grill. This way, you never have to replace your tank or worry about running out of fuel. The biggest downside is that gas won't flavor your food the way charcoal does. If taste is your biggest priority, a charcoal grill is the way to go.
Smokers cook at low temperatures between 180 to 220 degrees Fahrenheit, exposing the food to wood smoke for long periods of time. Food can be smoked "Dry" or "Wet," depending on the level of moisture and tenderness that's desired. There are two main advantages to using a smoker. The first is the taste; smoked food has a rich, distinct flavor that you can never achieve with a gas grill. The second is cook-space; most smokers have cooking ranges between 376 and 750 square inches, which means you can cook for a large group of people. The biggest downside is the time, which can be up to 2 hours per pound for a piece of meat.
Wood Burning Pizza Oven can be a great addition to outdoor kitchens and barbecues as well. It has a bottom fire pit for the wood and the pizza is placed in the top slot. You can make authentic pizza at home and your backyard will smell like a pizzeria. You can use it to bake bread and cook meat as well.We can customize your backyard barbecue with a wide variety of kitchen features. Whether you want a simple grill and counter or a full outdoor kitchen, we'll make sure it perfectly compliments the existing look and feel of your backyard. Here are some of the things we can integrate into your barbecue island:If you'd like to learn more about installing outdoor kitchens or barbecue in your home or to speak with one of our designers.
---
At JM Outdoor Living, we offer a full suite of in-house design-build services. For a complimentary consultation, fill out our simple contact form or give us a call at 832.586.6224. We are ready to answer all of your questions and tell you how JM Outdoor Living can make your landscape design dreams come true!