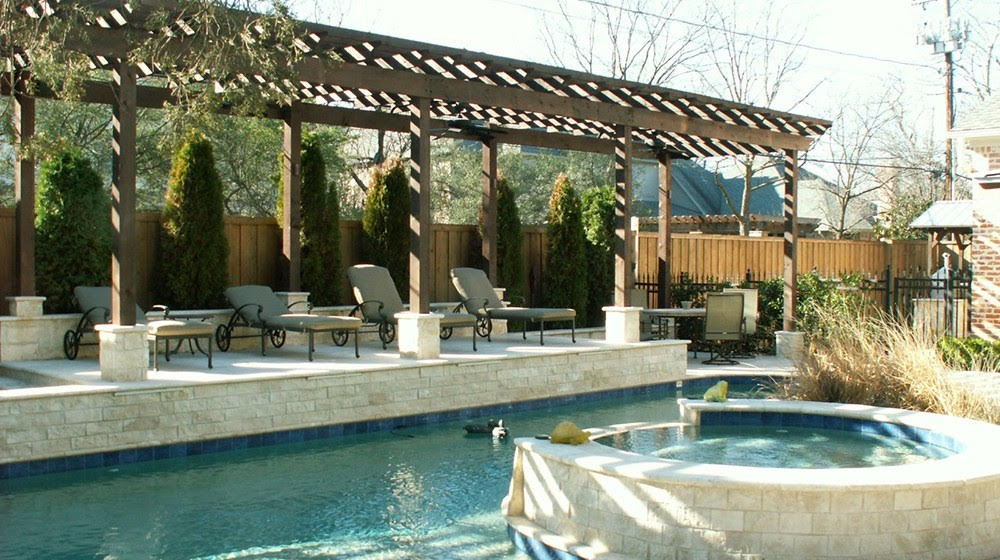 Functional and elegant, pergolas work great for adding an inviting feel to your outdoor living space. Characterized by its classic arches, these structures provide shade and let you relax in your landscape even under the summer heat in The Woodlands and Conroe Texas
If you're looking for pergola design ideas, we're here to help. Let's check out the several ways pergolas can serve as a visual element to your yard.
Enhanced hardscapes. Pergolas can be integrated with another hardscape, such as a backyard fireplace, for a more dramatic setting. It can also be used as a smooth transition from one outdoor amenity to another. For example, a pergola can be installed to lead guests from your pool or spa to your outdoor kitchen and dining area.
Secluded Space. The four sides of a pergola are usually left open but you can also opt to install in either of its sides a divider, such as trellises, or perhaps hang in a fabric to provide more shade. This is also one great way you can block unwanted views or add more shade to your seating spot.
Focal Point. Pergolas can be built on their own or to go with another structure, such as a wooden deck. As a stand-alone feature, pergolas are best positioned in specific areas where you tend to spend most of your time.
Accent to a Facade. The variety of pergola designs you can choose from will most likely depend on the available space in your yard. Small pergolas can serve as an accent to an otherwise empty corner, or you can also request your contractor to have it attached to the roof structure of your house. Talk to professional landscape designers so you'll know which designs fit your home structure best.
Beautiful Walkways. Pergolas can also be used as covered walkways accentuated by climbing plants. And since the pergola design is flexible, you can have the ceiling at multiple heights or customize the columns to blend well with your home's architectural theme.
Remember, Placement is Crucial
Pergola design ideas you'd pick should allow you to maximize and not limit use of your outdoor living space and even indoors.
Take time deciding where to place your pergola. While a pergola adds charm to a spot effortlessly, there are areas in your landscape where it might not work.
A pergola has defining edges that may make an area feel cramped and confined. Built right next to windows, meanwhile, a pergola also has the tendency to block natural lighting indoor spaces can otherwise enjoy. This also isn't favorable if you love enjoying the views outdoor from your window.
It's also essential that you observe the position of the sun on different times of the day so you can determine where it will be most appropriate to build your pergola.
Finally, if you're hiring someone to build those pergola design ideas for you, make sure to work only with professional landscape designers so you can be guaranteed quality work.
---
At JM Outdoor Living, we offer a full suite of in-house design-build services. For a complimentary consultation, fill out our simple contact form or give us a call at 832.586.6224. We are ready to answer all of your questions and tell you how JM Outdoor Living can make your landscape design dreams come true!